Management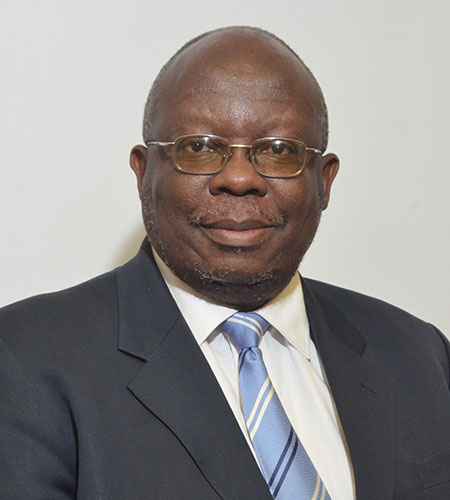 Norman Moleele
Chief Executive Officer
Mr. Norman Moleele
Chief Executive Officer of Business Botswana
Mr. Moleele holds a Master's Degree in Strategic Management (University of Derby), Post Graduate Diploma in Law majoring in conciliation and arbitration (University of Namibia), Post Graduate Diploma in Business Administration (Milpark Business School), and Certificate in principles of Business & Management (Wits Business School). Mr Moleele has senior management experience and capabilities in strategic modelling, leadership, business development (including monitoring and evaluation, training and mentoring), strategy formulation, change management, Small, Medium, Macro Enterprises (SMMEs) development, customer service, stakeholder management and building strategic relationships, excellent communication, presentation and engaging capabilities and banking.
Mr Moleele has risen through the ranks with Business Botswana ( Formerly BOCCIM) working with the private sector for over 25 years as ; (a) Field Officer; (b) Regional Manager; (c) Deputy Executive Director; (d) Membership Management Director; (d) Private Sector Development Programme (PSDP) Director- on secondment. In his previous roles Mr Moleele has led managed and supervised a good number of senior managers and professionals and other numerous employees.
His responsibilities at Business Botswana include amongst others; driving the overall strategy, risk and management of Business Botswana focusing on Private Sector growth and Social development, research policy and advocacy, establish international partnership, provision of membership service, business development and contribution to accelerated economic growth agenda for the private sector. Mr Moleele sits on the following boards;
Vice Chairperson of the Botswana National productivity Centre (BNPC) board
Rural Development Council (RDC)
Economic Diversification and Trade Council (EDTC)
Botswana Bureau of Standards Council
SADC Private Sector Forum (SPSF) (currently secretariat)
He has represented Business Botswana in Regional and International assignments at; International Labour Organization (ILO), Southern African Development Community (SADC) and African Union (AU). Mr Moleele has worked on projects with the Kenya Association of Manufacturers and participated in several high level meetings, seminars, workshops and conferences across the world.
Zoe A. Isaacs
Director Business Development Services
MS ZOE ANGELA ISAACS
Director Business Development Services
Ms. Zoe Angela Isaacs holds Master's Degree in Business Administration, Bachelor of Commerce (UB). Ms Isaacs has 28 years' experience in the finance and investment sector and capabilities in business finance and administration, leadership, Investment Promotion, policy and strategy development, governance and leadership skills business development (including business evaluation, implementation and monitoring), risk management, training and needs analysis, stakeholder management, excellent communication, presentation and engaging capabilities.
She further has extensive experience in the SMME sector, which includes the provision of turnaround strategies for non performing businesses. She has held several positions at senior management level including; a) Acting Deputy Chief Executive-Operations and Entrepreneurial Development Manager (Head of Department Training and Mentoring Department) for Citizen Entrepreneurship Development Agency (CEDA), b) Portfolio Manager for Peo Holdings (Pty) Ltd (renamed Peo Venture Capital), c) Caltex Oil Botswana for Commercial Sales Representative, d) Senior Project Officer for Botswana Development Corporation (BDC), e) Assistant Accounts Officer for Botswana Building Society (BBS).
Ms. Isaacs is the current Director- Business Development Services for Business Botswana and her responsibilities includes; formulating and managing of business development strategies for Business Botswana and its members. Identifying viable and sustainable projects and developing opportunities for captains of industries in Botswana, including the following functions, among others: carrying out market research; leading business development initiatives and management by negotiating with different organization influences, government bodies, protecting the economic interests of the business community and ensuring minimum hindrance for doing business. She has served in a number of boards including; Chaired the Botswana Qualifications Authority (BQA) task force for Business and Entrepreneurship Standards Setting, member of Human Resource Development Council (HRDC) Committees on Finance and Business Development and Fund ( which approves applications for refund from the training levy), task force for the development of National Upgrading and Modernization Programme for Botswana, reference Group for the Development of Corporate Social Responsibility Guidelines and current member of the Non-Governmental Organisation (NGO) Council.
Dichaba Molobe
Director Policy Advocacy
Dichaba Molobe
Director Policy Advocacy
Dichaba Molobe has over 26 years' experience of working in both government and the private sector with a special focus on promoting the private sector.
In his portfolio as Business Botswana's Policy Advocacy Director, he is responsible for identifying regulatory barriers to doing business and convening meetings between government and the private sector to resolve the problems.
His job is to maintain regular dialogue with senior government officials including Cabinet ministers, to assist the private sector with immigration and business licensing to mention but a few issues.
Mr. Molobe is therefore highly experienced in government liaison. He holds a Bachelor's degree in Economics and Statistics from the University of Botswana
Eileen van der Est
Regional Manager
Eileen van der Est
Regional Manager
Annah Phetogo
Head of Finance & Administration
Annah Phetogo
Head of Finance & Administration